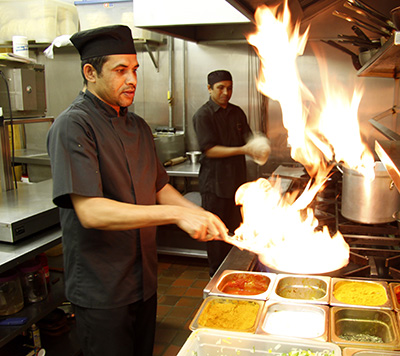 Proprietor and Head Chef Rana Miah was born in Chandpur, Bangladesh and decided to name the restaurant in honour of his birthplace.
Rana was taught to cook at an early age by his beloved mother Razia. One of her favourite recipes the Indian Railway Curry is a best seller in Chandpur adding Donegal Lamb and Irish Potatoes it is a hit with customers.
Rana moved to the Middle East, Wales and London to perfect his craft and finally settled in Ireland. Along with business partner Susan he realised his dream and opened Chandpur.
Rana and Chandpur have won numerous awards.
The most recent are:
Using only the freshest and finest quality ingredients and Rana's unique blend of spices in his dishes this restaurant and takeaway has become a sensational success with locals and tourists in picturesque Donegal Town situated on the Wild Atlantic Way.
Coupled with the very personal service from Susan and the team at front of house, it is easy to see why this restaurant keeps getting rave reviews and awards.
This beautifully decorated restaurant in Authentic Bangladeshi style oozes warmth and ambiance. From the moment you walk in the door you are transported to another world, with the aroma of the award winning food to the sumptuous décor, customers can relax and enjoy the wonderful dishes on offer, accompanied by select wines and beers from around the world.
Chandpur is not just a restaurant; it is an experience that offers customers exceptional food and genuine hospitality with affordable prices that keep customers returning time and time again.
To book a table or order a take-away telephone 074 97 25452
Find us on Facebook, or email us at susanrana2@gmail.com